EDIT MAIN
Bedford Area School District School Board Directors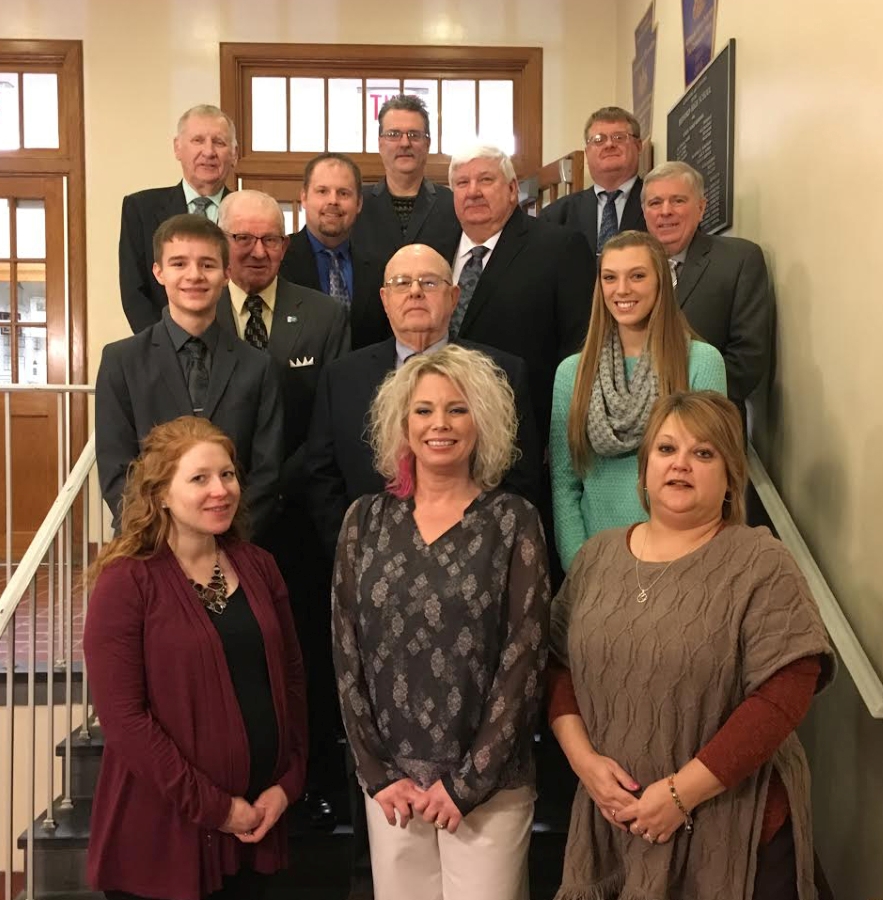 (First Row-Left to Right): Mrs. Casey Cover (Secretary), Mrs. Emily Kendall, Mrs. Kimberly Weyant
(Second Row): Mr. Hunter Hartung (Student Representative), Mr. William Ross, Miss Allison Shuke (Student Representative)
(Third Row): Mr. J. Roy Bence (Treasurer), Mr. Jeremy Oldham, Mr. Thomas Bullington (President), Mr. Jay Cessna (Vice President)
(Fourth Row): Mr. Deryl Clark, Mr. D. Royce Coughenour, Dr. Allen Sell (Superintendent)
The School Board Directors for the Bedford ASD are comprised of 9 members representing the following areas:
Area I – Bedford Borough West, Bedford Township II**, Harrison Township and Manns Choice Borough- Represented by Mr. Tom Bullington, Mr. William V Ross and Dr. Sandy Mehalko
Area II – Bedford Township I*, Bedford Borough East, Snake Spring Township- Represented by Mr. J. Roy Bence, Mr. Jeremy Oldham and Mr. Jay Cessna
Area III – Colerain Township, Cumberland Valley Township, Hyndman Borough, Londonderry Township Rainsburg Borough- Represented by Mrs. Emily J. Kendall, Mr. D. Royce Coughenour and Mr. Deryl Clark
*Bedford Township I: East side of river – Sunnyside Road, South side of North Richard Street – East of Broad Street – Industrial Avenue – Orchard Way and Orchard Heights.
**Bedford Township II: North side of West Street – Seifert Street – Central Way – North of Fulton Avenue – East of Clearfield Avenue (dividing line – Clover leaf) Donahoe- South of Anderson Street – Wilson Drive.
Public Comments to the Board
Individuals who wish to make a public comment to the Board must fill out our "Public Comment" form prior to speaking at any of our Board Meetings. Please click here to view our form.
Contacting Board Members
Individuals who wish to contact their School Board Representative can do so by contacting the Board Secretary, Mrs. Casey Cover, who will forward all correspondence to the appropriate Board Members. The Board Secretary can be contact via mail, email or phone. Mrs. Casey Cover, Board Secretary
330 East John Street
Bedford, PA 15522
814-623-4295
coverc@bedfordasd.org
Board Meeting Dates
The Board approved the following dates, times and locations to meet for monthly meetings for 2017: Work Sessions are scheduled to meet the Monday the week before the regular business meetings. The regular business meetings are the third Tuesday of each month. Both Work Sessions and Business Meetings will begin at 6:30 PM. Meetings will be held in the Board Conference Room at Bedford High School. If you have any questions about the schedule of the Board—please contact Mrs. Casey Cover, Board Secretary at (814) 623-4295. The meetings are always advertised in the Bedford Gazette around the first of each month.