Parents may have questions regarding what charger and cable meets our School's 1:1 iPad 8th Generation specifications. The information below is meant to help you get the right replacement cable and charging power adapter, if necessary.
USB POWER ADAPTER (CHARGING BLOCK)
The proper charging block for the 8th Generation iPad is a 20W USB Power adapter.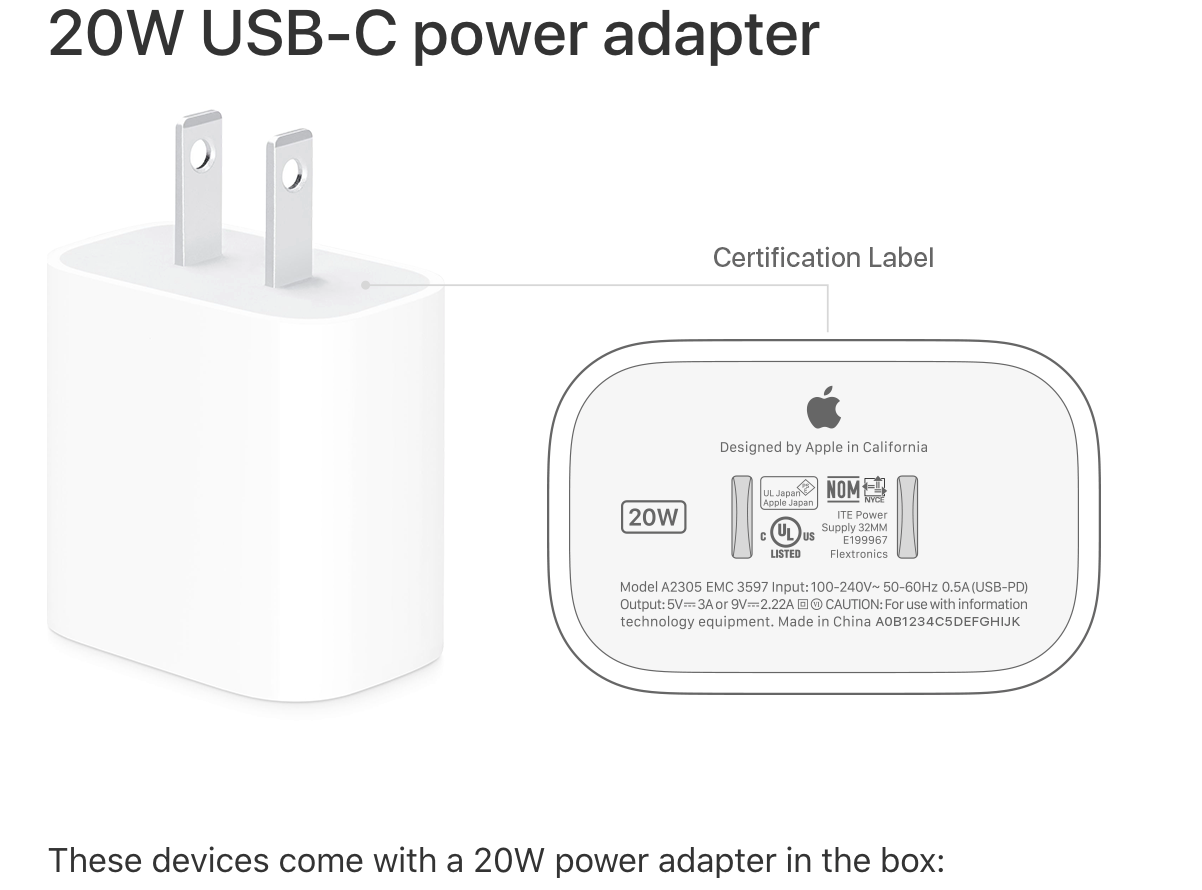 Safety is our top priority.
We recommend the original Apple 12W USB Power Adapter. Apple puts the chargers under rigorous testing for safety and reliability and are designed to meet the government safety standards.
Here is a link to purchase the Apple 20W USB-C Power Adapter.
For more information about charging your iPad, refer to the Safety, Handling, and Support section of the iPad user guide.
It's recommended that you charge the iPad with the included USB cable and power adapter. However, you can also charge the iPad with "Made for iPad" or other third-party cables and power adapters that are compliant with USB 2.0 or later and with applicable country regulations and international and regional safety standards. Other adapters may not meet applicable safety standards, and charging with such adapters could pose a risk of death or injury.
Using damaged cables or chargers, or charging when moisture is present, can cause fire, electric shock, injury, or damage to iPad or other property. When you charge iPad, make sure the USB cable is fully inserted into the power adapter before you plug the adapter into a power outlet. It's important to keep iPad, the USB cable, and the power adapter in a well-ventilated area when in use or charging.
USB Power Adapter Specs:
Frequency: 50 to 60 Hz, single phase
Line voltage: 100 to 240 Vac
Output voltage: refer to the output marking on the power adapter
If you decide to purchase an off-brand model ensure it meets the specifications to avoid any risk of injury or damage.
USB CABLE (MFI CERTIFIED)
The compatible charging cable for the 8th Generation iPad is a USB-C lightning cable.
Our recommendation is to purchase a genuine Apple USB -C lightning cable.
For more information regarding USB-C to Lightning cables click here.
Here is the link to purchase the Apple USB Lightning cable.
For more information about USB Power Adapter click here.
If you are considering purchasing a off-brand cable, please ensure that it is Apple MFi certified. MFi stand for Made for iPhone/iPod/iPad. Non-certified cables can be very dangerous to your device. These cables often can get extremely hot and cause damage or destroy your device.
Here is the link to check if you cable or accessory is MFi certified accessories.