The Bedford Area School District and The Community School Excellence Council cordially invite you to attend the induction of Class of 2021 and Class of 2022 to the Hall of Excellence Bedford High School Auditorium Thursday, April 7, 6:30 pm.

Meet the 2021 Inductees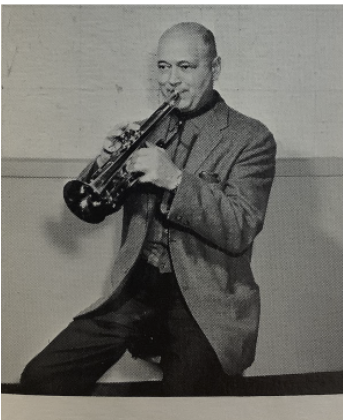 Forrest "Hunsie" Hunsicker

Following high school, Forrest attended Penn State University where he graduated in 1936, as a music education major. While at Penn State, Forrest was president of the renowned "Blue Band," widely celebrated as one of the finest college marching bands in America. He was also the "front man" in the Penn State Dance Band, and his summer job was leading that fine Dance Band on European cruise ship tours! Upon graduation from PSU, Forrest's first hire was at Albright College where he started the college band in 1936. Soon after, Forrest married Lorraine Haufer and continued his teaching career in the late 1930's at Bedford High School. Forrest wasted little time in developing the BHS marching band into one of the finest high school marching bands in the entire region. After Pearl Harbor, like millions of other young men, Hunsicker enlisted in the army and eventually found himself fighting against the Empire of Japan in the South Pacific. By 1946, this WWII veteran returned to his teaching position at Bedford High. He also found employment as a licensed investment agent with Pennsylvania Funds Corporation. One of the highlights from his teaching career at BHS occurred in 1964, when the bison marching band was invited to take part in the World's Fair parade in New York City! Best of all, Forrest and Lorraine's daughter, Betty Ann, and son-in-law, Greg Fisher, presented them with a grand-daughter, Jamie, in 1975, and she most certainly was "the apple of their eyes!
---
Arch Stewart
After signing his contract in 1958, Arch became the Chorus Director of Bedford High School, after spending the previous eight years teaching at Hyndman High School. The Indiana, PA, native would go on to teach an additional 18 years at Bedford High School. Arch graduated from Indiana High School in 1943, and he went on to earn his Bachelor's Degree in music education from IUP. In between he served in the U.S. Navy during WWII, he also received his Master's Degree in music education from the University of Colorado. Arch taught grades 7 through 12 in general music, and directed the annual musicals, sharing his knowledge and love for music with all he taught. Arch founded the Varsity Singers, a group that is still performing throughout the community to this day. Arch's love of teaching and music is still echoing today through the Varsity singers, Spring and Christmas Concerts, and musicals, – all things he pioneered. Arch gave private piano and vocal lessons to anyone who showed an interest. Arch retired at the end of the 1976 school year. Arch Stewart's impact is still felt today. Although he was no longer a teacher at BHS, his love and passion for music never faded, as he served as the choral director at the Bedford Presbyterian Church until his passing on December 23, 2005.
---
Meet the 2022 Inductees
Gregory Fisher
Gregory Fisher earned his teaching degree in 1966-1967, and began a 16 year teaching career at Bedford Area School District where he taught Geometry, World Cultures, and Basic Finance. While at BHS, Greg also was an assistant coach in the Junior High basketball and football programs and also served as the assistant athletic director for 7 years. In 1983 he retired from teaching, and became a State Farm agent in Bedford for two and a half years. In 1985, Mr. Fisher became State Farm's agency Manager in Chambersburg, Pennsylvania, and was in charge of recruiting, hiring, and motivating agents throughout Franklin, Fulton, and Bedford counties. In 1988, Greg was promoted to Agency Director headquartered in Carlisle, covering 18 counties in Central, PA. While at corporate headquarters, Greg was able to study abroad at international programs in Lausanne, Switzerland, Hong Kong, Fontainebleau, France and Shanghai, China. Fisher's next promotion was in 1994, which took him to the corporate headquarters in Bloomington, Illinois. He assumed the executive Asst. to the president of State Farm insurance. After the promotion, Greg was in charge of 16 regions throughout the U.S.A and Canada. Then in 2001 he headed all contacts, compensations and litigation units of the agency.
---
John Keller
John Keller, a Hyndman native, followed in his father, Lloyd Keller's, footsteps. John Keller went on to become a very successful teacher, as well as a coach. After graduating from Penn State University, he spent his first year teaching at Bedford High School. Then, he would go on to accept a teaching and coaching position at Hyndman High. For over 30 years, Mr. Keller taught mathematics, and coached basketball and baseball. He also supervised the Hyndman Recreation Program from 1958 until the joining with Bedford in the summer of 1966. For 22 years John Keller directed the Learn To Swim Program. Many of the youth he supervised became Red Cross certified swimmers and life savers. Both his athletes and students looked up to him as a mentor. With John Keller as head coach of the basketball team, the "Hornets" won 7 county titles and 9 District 5 titles. In 2008, Mr. Keller was inducted into the Bedford County Sports Hall of Fame. Since Mr. Keller's retirement, he enjoys spending his time with his two daughters, Kim and Kelly, as well as his grandchildren. John is also still an avid Penn State fan.

---
Lloyd "Red" Keller
Lloyd Keller graduated from Albright College and started teaching math and science in the fall of 1928 at Hyndman High School. Mr. Keller went on to serve as a classroom teacher, coach, principal, and supervising principal at Hyndman High School. He then became an assistant to the superintendent at Bedford Area School District in 1966, when Hyndman officially became a part of the district. Mr. Keller supervised all the elementary school programs until his retirement. Mr. Keller was greatly involved in the Hyndman community from the time he arrived until his death in 1975. A one-time 2nd baseman for the Albright College baseball team, "Red" Keller was an instrumental part in raising funds to build the Hyndman Community Center which served as the school's basketball court until the new high school was built. It also served as a roller skating rink, dance hall, and movie theater. Mr. Keller even raised funds to buy uniforms for a fledgling high school football team. He was a charter member and past president of the Hyndman-Londonderry Lions club. Mr. Keller helped to start the Hyndman Playground Association. He served as a Sunday school teacher for 23 years for the Hyndman United Methodist Church. Lloyd Keller was known to get things done. J. Suter Kegg said of Keller in his sports column in the Cumberland Times. "For Keller it was never IF something could be done, it was WHEN." Mr. Keller was a member of the American Association of School Administrators, a lifetime member of the National Education Association and the Pennsylvania State Retired Teachers Association. Mr. Keller even served as the Secretary-Treasurer of the Bi-State Baseball League.
For more information please visit the link below